Whole Home Resource
Interiors

The Whole Home
What's Wasabi?
One evening I read "How wasabi became the new black", a New Yorker article on color forecasts. The next morning I walked into a friend's newly renovated historic house in New Hampshire and discovered wasabi, a yellow-based green, brightening her dining /kitchen area.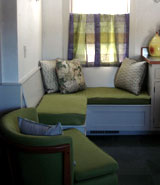 This chair and a half spent its first 50 years in Sarah's mother's house upholstered in white velvet. The half curtains are French jaquard dish towels.
What's "wasabi"? Think Granny Smith apples, Anjou pears, a package of Doublemint gum. Benjamin Moore has many variations, three are Apple Green, Pear Green, and Grape Green.
"It was not a successful color for appliances—remember avocado" my friend Sarah said when I asked about her color choice. "And some of us can't wear this color. When I wear my wasabi jacket my teenaged daughter calls me the 'giant lima bean'.
"However, I've liked the color for a long time—the pillows in the window seat are from a former house. It's a great mid-tone that reflects the greens in nature. I wanted a color with some punch that would not fight with the grey I chose for the woodwork."
Eleven-year old Emma of Scarborough has painted her whole bedroom wasabi. "Asparagus" was the color of the paint chip she chose last summer. She says it's not a color for sad or depressed people. "It reminds me of spring and I wake up happy each morning." It was a fearless choice but she says, "I knew that with four windows in the room I could use this color."
Emma chose to temper the strong green with white—off-white linen curtains, cream-colored lamps, and a white wicker chair. She's covered her bed with a purple comforter and a quilt in pinks, whites, and yellows made by her grandmother. Although already a savvy decorator, Emma is nonetheless typical and describes her room as "currently a pig sty."
According to Leslie Harrington, the color consultant featured in the New Yorker article, "the biggest color story over the past five years has been wasabi, or any green in that color family." Although wasabi has been a trendy color for a while, color forecasts predict that it will remain popular and design magazines now feature rooms with heavy doses of the color. Because wasabi first became a popular color in advertising, we've become more accepting of its use in the home. (Keep your eye on advertising to determine the next new color in interiors.)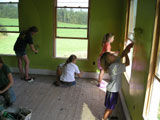 Emma gets some help from friends.
What colors work with wasabi? Clearly whites and purples are easy choices. If wasabi is used in a contemporary décor, black accents will add sophistication. If you want to add the cheeriness of wasabi without a paint job or reupholstery, consider using a wasabi and off-white wallpaper on one wall or wallpapering the back of a bookshelf or an alcove.
I returned from Sarah's house thinking about wasabi—not at all a color I would choose to include in my cottage-style home. Or so I thought. I began looking more closely and realized that over the last year I've bought several paintings with heavy doses of that bright yellow-green and three pieces of 1930s pottery in that color. I was surprised to see that wasabi and I are cohabitating quite happily. This color could be the cure for the common mud season…you might want to give it a try.