Whole Home Resource
Interiors

Results

This is my second home that Susan has assisted in turning "blah" into "Warm and Wonderful". Her ability to transform a space that is welcoming, comfortable and functional is truly amazing. She is a wonderful listener and this translates into getting the living space that you have always imagined. Susan used what I already owned and used her creativity to translate my " perfect room" into a reality. I am getting ready to move into another home and will definitely have Susan help me in turning this new living space into another warm abode.
—Mary N., Cape Elizabeth, ME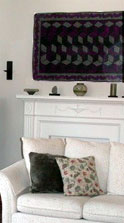 I like a Zen look, but I had nothing on the walls! I've never felt confident about decorating my home. I thought the only way I'd ever be satisfied was if I went out and bought all new furniture and accessories, which I can't afford. I've always wanted my house to look "put together", to have a thoughtful, finished look, but I didn't know how to accomplish it on my own. I felt paralyzed.
Working with Susan was affordable, easy, fun, and inspirational. She not only made suggestions, but she explained the thinking behind her suggestions. I learned a great deal about how to put colors together, something I've always struggled with.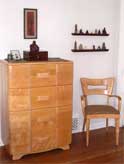 Now I feel much more confident about continuing the work we began together and choosing accessories. I discovered I'm not as inept at decorating as I've always made myself out to be. I just needed someone else's perspective and expertise to help me learn how to put things together in new and different ways.
Now I don't have to travel to find the sanctuary I was seeking, I can just go home. That "stuck" feeling I was carrying around has lifted and I'm ready to make other changes in my life as well.
—Judy Y., Los Angeles, CA

Cabin Redecoration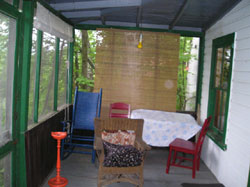 before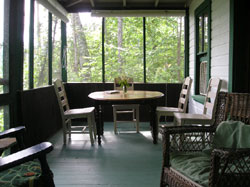 after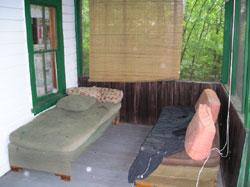 before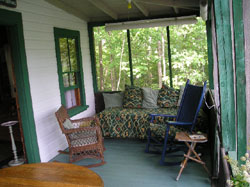 after

On Home Staging:
I knew that to sell my home something be done to make it more appealing to prospective buyers. All of the rooms were 'ho-hum' ordinary with very little appeal, even to me. In fact, I disliked my rooms, but my budget and ability for creating a new look was limited.
I called Susan and had a free initial visit to discuss what could be done within my budget to give my home a welcoming and warm look. Her suggestions after walking through the house were 'Let's declutter and paint." Then, by repositioning furniture and adding a few newer pieces, my home took on the look I always wanted but never was able to create. Home was not a place I usually wanted to be.
At first I questioned her selections, then it started to look better than ever, and the doubt turned to trust. I found I wouldn't try anything new without consulting Susan. Her instinct for what works is unbelievable. She turned a drab mediocre home into an inviting and friendly place—and stayed within my budget.
—Jean C., Scarborough, ME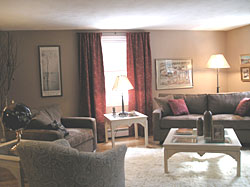 Susan has transformed my living room. She rearranged the furniture so it is cozier and more intimate—it immediately gave the room a fresh, modern feel. The flokati rug she suggested I buy gave the room much-needed texture, and the soft red floor-length drapes and sofa pillows add a dramatic splash of color. She also moved some of my favorite prints and paintings in order to take better advantage of color and shapes.
I am very pleased with the new look of my living room. The results of Susan's creativity and inventiveness exceeded my expectations. I highly recommend her work.
—Gloria B., Scarborough, ME

Susan simplified my living /dining room and the style went from chaotic eclectic to calm eclectic.
—Margaret F., Somers, NY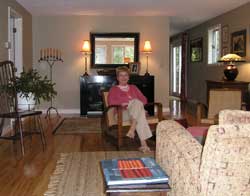 Susan transformed my living room by rearranging what I already loved and suggesting how to complete the room with lighting and shades. Thanks to Susan's creativity and elegant awareness of balance, color, order, and space, now my living room is a warm inviting space where I love to be that reflects my style.
—Peg B., South Portland, ME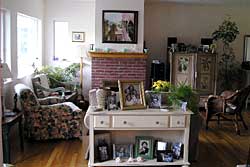 before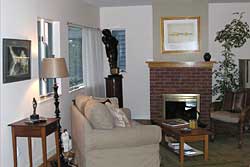 after
Working with Susan was fun because of her wonderful way of assessing both me and my space. She made styling my home exciting. My home was a mix of different styles and Susan was able to create a more sophisticated and comfortable space that better reflects who I am at this time in my life.
She is sensitive to cost and knows how to maximize comfort, style, and value. After working with Susan I can use my home easier, enjoy it more, and I love the way it looks.
—Penny H., South Portland, ME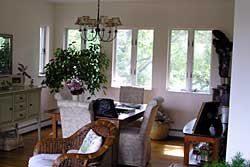 before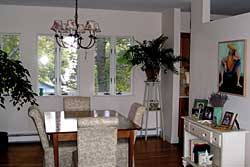 after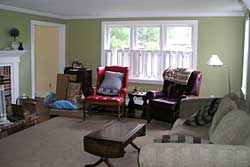 before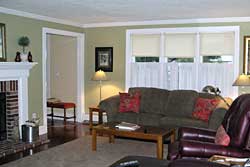 after

You cannot believe how much this redecoration has meant in my life. You are like a therapist or psychologist for the house or home. It's doing wonders in my life and I have been so motivated to clean clutter and let go of things I didn't want to look at or face for years.
—Beverly W., Cumberland, ME