Whole Home Resource
Interiors

The Whole Home
Some Thoughts on a Summer Escape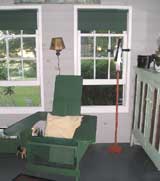 The plans for the two original-style Adirondack chairs on our "indoor porch" came from the Adirondack Museum at Blue Mountain Lake.
Summer in Maine is a short season. Now it's finally begun, we thick-blooded types are happiest with our feet in a cold lake and cool nights under a quilt. A lakefront cottage is my ideal escape from the heat. While I'll make do with outdoor plumbing there are some things I've just got to have.
We recently returned from a just-long-enough week with 14 family members in a cabin meant for fewer. However, with three sisters who organize this retreat yearly at the same cabin and with a number of rules, the experience gets better every year.
They order two Porta-potties—no waiting. They ban television. They design the menus and assign the shopping and cooks for each dinner. My very particular sister is now in charge of all dishwashing. As the Maine sister, I'm responsible for whoopee pies.
Unaccustomed to four days of free time in which I'm not scraping, painting or pruning, I immediately find chores to take on—the screen door is sticking, the side of the guest cottage could use a coat of paint, the sleeping porch could be rehabbed. Then I remember this is a rental cottage and my time is to be spent swimming, playing Scrabble, and ensuring life jackets are worn.
So what does a cottage require? A screened porch and good shade are necessities. Beyond that, there should be two corkscrews in prominent places, and updated magazines.
Last summer my husband and I began renovating my parents' long-ignored lakeside cabin. We've spent a number of long weekends rebuilding, repairing screens, painting, and refurnishing. We've decided the necessities are decent mattresses, good lighting, a game table separate from the eating table, porch upholstery that can handle a rain, an outdoor shower, a generous clothesline, and furniture that can handle yet another coat of paint.
The cabin now has a Scrabble game, a good selection of books, and some decent glasses. It will never appear in House Beautiful, but it does accommodate a wet behind on a chair and afternoon naps on the porch.
My grandparents' cottage, built in the 1920s, seems to me a perfect design. It has a screened porch on three sides with dining tables on one side, rocking chairs and gliders on the front facing the lake, and the far side has three "swing beds" which hang from the ceiling on chains. The core is a large living room with dark beaded-board walls and a stone fireplace. Three bedrooms with French doors onto the porch fill the corners. It's open-air living with a rainy-day refuge.
What if you don't have a family cabin? How do you make your own home feel like a summer escape? When my husband and I renovated our house the design goal was to make it appear as if it had been a family cottage for many years. Achieving that goal took many years since we started with a shell. I've almost blanked out the winter we spent living with duct tape over the cracks in the floor.
Now my favorite room is our "inside porch" which has a restored metal glider with cushions and pillows, two early-style Adirondack chairs, and shadow decoys and a fan hanging from the blue ceiling. It has three windows and two glass doors and catches the breezes. There's an old painted oar mounted on the wall and an Uncle Sam whirligig in a corner. I'd rather spend a summer day in that room than on the beach.
Unfortunately we don't have room for a swing bed, but those of you with a screened porch you could turn into a sleeping porch might consider the idea.
In late spring I unpack my summer slipcovers, and the living room brightens tremendously. Years ago I found 20 yards of blue and white ticking for $1 a yard at the Worumbo Mill Store in Lisbon Falls, enough to slipcover three upholstered chairs and a footstool. I change the pillows from dark fabrics to florals and add skirts to the dining room chairs. If you have curtains, consider hanging only sheers for the summer. The Curtain Shop has the largest selection in this area.
Unplug the television and tell your children it's broken. My father did that every summer and then had it "repaired" by the time football started. Then dig out the Monopoly or Scrabble.
Surround your house with shade trees. They'll grow much faster than you think. You'll save on cooling costs and your lawn won't burn up in the sun. You can create a low maintenance "cottage" garden with two chairs under a shade tree, hostas, ferns, hydrangea, day lilies, flox, and blueberry bushes. These plants are not bothered by the Japanese beetles which are currently storming my fruit trees and rosa rugosa hedge.
I asked Jim Massť of Estabrook Farms & Greenhouses for his suggestions on creating a green hideaway using plants resistant to Japanese beetles. He mentioned bayberry as a fast-growing native option, as well as red maple (acer rubrum). He also suggested two sumacs—Gro-low Sumac and a Tiger-Eye Sumac. Jim also told me that their hydrangeas are being eaten by Japanese beetles, so maybe they simply prefer my cherry tree.
We built an outdoor shower before we had our indoor plumbing finished. Showering with blue sky (and an occasional airplane) overhead is pure pleasure. And a clothesline is a necessity. You'll sleep better in sun-dried sheets.
I've designed a tiny guesthouse I'd like to see under our apple trees. It may remain only a vision for some years to come, but I've already acquired the painted iron bedstead and the door. Maybe if I furnish it, it will get built. I'm planning to leave our house to our guests and sleep in the guesthouse.
There are wonderful paint colors just perfect for a "summer" house in Maine. Benjamin Moore has a Boothbay Gray, a Yarmouth Blue, a Kennebunkport Green, Kittery Point Green, a Rockport Gray, and a Brunswick Beige. There's even a Lakeside Cabin blue, #1658. I've chosen the Kennebunkport Green for a porch floor I'll be painting soon.
One more thought on how to create the ideal escape, whether lakefront or not. Turn off the lights—the pathway lights, the deck lights, the dock lights, the porch lights. Leave the night for the loons and the moose. If you're nowhere near a lake, sit in the dark and wait for the fireflies to appear.