Whole Home Resource
Interiors

The Whole Home
The Pursuit of Sun in a Cold Climate
It was July, I had just moved to the Netherlands, and desperately wanted to go to the beach. I put on my bathing suit, jeans, wool sweater and socks, Bean boots, and a parka, and we headed to the North Sea. The sun was weak, the sea grey, the breeze cool. I never even removed the first layer.
But as I tromped down the beach I did see women in bikinis. They were behind glass, protected from the breeze, soaking up the very slight consolation of the sun. The beach was lined with restaurants with attached glass-walled patios. There were several with indoor pools. Needless to say, no one got close to the sea.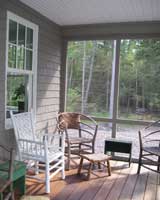 This screened porch in Brunswick faces west over the water and could easily be turned into an afternoon suntrap for the spring and fall by adding removable glass panels.
That's when I learned about suntraps. Northern European coastal towns wouldn't thrive without them. They are a much-advertised feature in holiday houses in England. And they are a much less expensive alternative to adding a sunroom to your house.
For those of us who want eke the last bit of warmth from fall and who want to begin spring in April rather than June, suntraps are a great idea.
A suntrap doesn't require a glass-walled structure. It requires taking stock of where you live, where the sun shines, and then taking advantage of it.
If you've got a screened porch, begin there. Along with our many other projects, I want to create a suntrap at our house in North Carolina. One of our screened porches receives sun from the east and south and I plan to create framed Plexigas panels for one corner. I'll use Plexiglas rather than glass as the panels will be removed in the summer, are lightweight and easily stored. I'll be very grateful to take my cup of coffee there on Thanksgiving morning.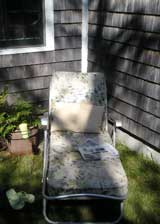 The writer's suntrap faces east. It is protected from the wind by walls on three sides. If a patio of brick or stone was added, it would be even warmer.
Creating a suntrap can be as simple as taking a cue from yachts and making a fabric wind shield for your outside balcony or deck. With rudimentary sewing skills, some sail canvas or fade-resistant Sunbrella fabric, grommets, and polyethelene cord you can create a wind (and privacy) shield you can lace onto your balcony or deck railing. If you choose a dark fabric, your space will feel warmer faster. Now just add the deck chair.
For our suntrap in Maine we took advantage of a three-sided space created when we added a barn to the house. We now have a protected east-facing area that receives sun in the morning and is shady in summer afternoons. Our intention is to eventually make that area even warmer by adding a patio of brick or stone. (This might be #7 on my "in-your-dreams" list.)
I have friends who created a suntrap in their outdoor shower at their island house. They made the surround large enough to accommodate a bench that's a perfect spot to sun dry. I think it could also serve as a hidden space to grab a breather from summer company.
If you have an unprotected outside space but want a permanent suntrap, consider using wood stockade fence. The panels are 6 feet tall and 8 feet long. Depending on your space and where the sun comes from, three panels and four posts could provide you with a low-cost hideaway. The panels are $30 each, the posts are $12. Add some cash for mix-it-yourself cement, the paint, and the ibuprofen for when you finish digging the four-foot holes for the posts.
Before you head to the store, stake out your suntrap and watch where and when the sun falls in your intended trap. This is a good time of year to take your measurements. Before deciding on the size, remember the panels will shade some of the sun. Enlist some hands to hold a sheet in place to mimic the panels.
The stockade fence can be disguised with vegetation. It's strong enough to serve as a trellis for a climbing hydrangea on the outside. I'm still searching for a spot for one of these at my house. They are fast growing and lovely. Plant a few grapevines on the inside—the grapes will ripen quickly there in the summer. Both plants will still look good in the winter.
If you have no access to the outside for your suntrap—look inside. Our south-facing bay window holds a rocking chair where I can be found on winter Sunday afternoons.
I returned from my first and last trip to a Dutch beach and created my own suntrap in the old house where I was living. A large room on the second floor had French doors opening onto a small balcony over a walled garden. On the rare sunny day, that room received sunlight for a few hours and the brick walls held the heat. I hung a hammock in front of those doors, added a pillow and a throw, and every so often could imagine I was on the Dutch Riviera (which is actually in Spain).