Whole Home Resource
Interiors

The Whole Home
The Well-Worn Interior
"The house is the man: tel le logis, tel le maitre, or if you prefer, 'tell me how your house looks and I'll tell you who you are.'"


—Mario Praz, An Illustrated History of Interior Decoration (1964)
This summer I sat in the house of an older friend who lives in Vermont and just looked. She's lived in this Civil-war era house for more than 40 years. Everywhere I looked was something that told me who she is and how she spends her time. The small pillow-covered sofa sits next to a window with a nearby birdfeeder and has a good reading lamp overhead. Organized piles of magazines cover an antique drop-leaf table, original artwork covers every wall, folk art sculptures hang from the ceiling. The walls are covered with books (in orange bookcases). A Librarian Action Figure with "Amazing Shushing Action," sits next to the Jane Austen Action Figure. A corner of the small living room is devoted to a grandchild-sized table and tea set.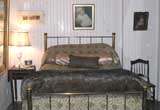 This is a recently built room with a well-worn appearance.
Although I had not seen my friend for years, I knew I would enjoy the upcoming week with her—it was clear she was vital and had a wide range of interests.
One of the books I picked up while there was The Well-Worn Interior (Forester & Whittaker). It is a book of photos of the interiors of old houses, mostly in Europe, featuring, as the publisher writes: "gently decayed interiors—the peeling paint, vintage fabrics, worn floors and other testaments to a place's history."
When I mentioned the book, Ann said, "Oh well...I keep that out just to intimate to my guests that I do have a style of sorts, that my worn upholstery, the walls I can't reach to repaint, and my stacks of stuff might be considered intentional!"
Aging gracefully. We'd all like to do that. How do we make a house look as if it has done so, no matter how old it is? How do we create comfortable, beautiful rooms that express our interests, rooms in which guests feel at home and, as Ann's house did, make me anticipate the time I would spend with her?
I'm not talking about wholesale shabby chic here. Ann's house, although worn, has an elegance that comes from good editing and an intention to please only herself.
For years I've been following the work of Axel Vervoordt, a well-known Belgian antiques dealer and decorator. His style is a mixture of old and spare. He chooses an old object, turns it into sculpture and designs a room around it.
Vervoordt describes his approach to decorating: "I consider myself a very eclectic collector and dealer. My taste spans centuries, continents and economic strata. I love the tension between different objects and different cultures. Two elaborate silver candelabra taken away from some princely 18th-century dining table become not table decoration, not emblems of wealth and power, but strange and beautiful abstract objects."
His company now has five art historians who collect objects and determine provenance.
Axel Vervoordt: Timeless Interiors, published the week I am writing this, features 23 houses he has decorated, including one in Miami.
Of course Vervoordt's rooms never include a pile of magazines or a Jane Austen Action Figure. Closer to home, designer Mallory Marshall of South Portland has had several of her own houses featured in House Beautiful. Like Vervoordt, she is able to lend significance to older objects others might not consider using. As a result, her houses look comfortable and lived in, not "decorated."
Without a budget for an art historian or a well-known decorator, what can a do-it-yourselfer do to make a room distinctive yet comfortable and expressive of your personality? How can a newer house develop a well-worn appearance?
I'm a big believer in mixing the old and the new, that older pieces can be striking in a contemporary atmosphere. Begin with what you love and look around your house with new eyes. When I work with clients I always find some treasure that's not getting the attention it deserves. When it is moved into a more prominent location it can either recharge a whole room or simply be more appreciated.
If there's nothing beautiful stashed in your attic, head to the antique/collectibles meccas we have here in Maine. You'll find the well-worn upholstery as well as "instant-history" treasures.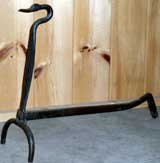 This andiron with character would become a piece of sculpture in the right home.
Cabot Mill Antiques in Brunswick is celebrating its 11th anniversary with a sale on November 3rd and 4th. They've been one of our long-time sources for furnishings and oddities including the two sets of shadow decoys we have hanging from a high ceiling.
I've had my eye on this single andiron from Arundel's Antiques USA for nearly a year. I don't have a fireplace, much less room for this $45 piece of sculpture. But I would love to see it as the only item on a large table.
We turned a $5 fluted column into a lamp that we now refer to as our "lighthouse." Old lamps and light fixtures can easily be rewired and will draw the eye away from the ubiquitous recessed lighting.
Can't find the sculptural in a store? Turn to nature. Our bookcases also hold a perfect raccoon skull, fallen bird nests, strange branches, and of course way too many shells.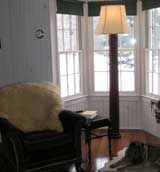 We call this lamp we made from a $5 fluted column our "lighthouse."
I'm also a big believer in the use of fabrics to warm a room. It's easier and less expensive to experiment with color using fabric rather than paint. Long curtains can disguise boxy contemporary windows. Vintage fabrics can be turned into pillows. A fur throw provides texture and warmth (an option to turning up the thermostat this winter.) A sheepskin comes in white or black and can be used as a throw or a rug.
Happily, Centervale Antiques in Scarborough recently re-opened on a smaller scale and has a fine selection of older rugs that will help age your room.
If you're planning to buy new furniture, carefully consider size. Even if you have large rooms beware of the overly large chairs and sofas that scream "couch potato". Avoid buying matching sets. Buy older chairs and a sofa and have them reupholstered or slipcovered. They're smaller and often better built than newer furniture.
Ross Endicott of Endicott Home in Scarborough designs and sells "intelligently scaled" furniture for small houses that is also perfect for groupings in larger rooms. With their focus on smaller, Ross and Christine Endicott are on the cusp of a necessary movement in this country: how to live most effectively in less space. Ross says, "I search for furniture with a multi-functional capability in a smaller footprint." In designing his furniture he says, "The way I address mindful consumerism is to offer quality furniture that will last a lifetime. Low-quality furniture is simply 'landfill furniture'."
I've been in a number of houses where the large "living rooms" are designed simply for entertaining, and the real living goes on in another room, a bedroom, a library or the kitchen, that's much cozier. That's where the dog bed is kept, where the pile of magazines or books appears beside a comfortable chair.
One large house I visited in Los Angeles was designated just for the art collection and entertaining and the owner had another building across the courtyard where she really lived. I left that evening having appreciated the artwork and the music, but without a clue about my hostess.
We need comfortable rooms we can live in, not temperature-controlled showrooms (or storerooms)! If more of us used all of our rooms for living, we could live in smaller houses and have less of an impact on natural resources.
A well-worn interior is not just a statement of style and personal expression. It's also mindful consumerism, recycling at its very best.