Whole Home Resource
Interiors

The Whole Home
Collect for love not money and get your kicks for [nearly] free....
"Stop me—don't let me do this!" is what my husband hears from me yet again in an antique mall with yet another pottery planter clutched to my chest.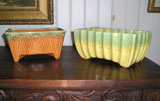 Two of my favorite planters, both marked USA.
I started buying these planters—they're marked McCoy, Upco, Brush, Hull, USA-because they fit the period of my house, are colorful (I just found my first orange one!), come in a variety of shapes (I rarely see two the same), and because they were inexpensive.
I've now got a collection of more than 25—and until I can find a wall (and the shelves) on which to display them, most of them sit wrapped in a box. And although I may appeal for help from my husband, he's no help: "Mmmm, that yellow one is nice," or "Well, you don't have an orange one...." So I add another to my collection.
I'm not so addicted to collecting planters that I shop on e-Bay-where (I just looked) I could buy them for less. We love the treasure hunt, and we love discovering Maine through our much-handled copy of the Maine Antiques Dealer Directory. We have our favorite places for a rainy afternoon or a winter road trip.
So where do we go? There's the collectibles "Mecca" in Arundel. You can spend a whole day at the two malls at the intersection of Route 1 and Log Cabin Road. It's a good source for vintage fabrics for pillows or curtains. Remember to tear yourself away for a great cup of chowder across the street.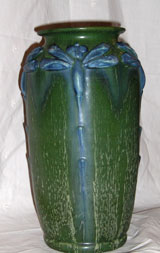 This is Blue Dragonfly by Ephraim Faience Art Pottery of Wisconsin. This line of handmade, contemporary pottery is available at Little Orphan Annie's in Auburn. This piece sells for $250.
When we're further south we stop in at Bo-Mar Hall in Wells, another antique mall with 125 dealers all on one floor. Victorian Lighting in Kennebunk is where we get the spare parts to refurbish the old lighting fixtures we use in our houses. It has an awe-inspiring collection of antique lighting.
A trip to visit friends in Brunswick always includes a swing through Cabot Mill Antiques. On weekends it also has an indoor flea market-with a great spirit of camaraderie among the weekend dealers.
Every year we make a daylong trip to the Fairfield Antiques Mall on Rt. 201. It's an old barn with many floors, more than 100 dealers, and 22,000 square feet of finds.
On the way home we stop in Orphan Annie's in Auburn for window-shopping. Don't be fooled by the name, Daniel Poulin has a high-end collection of glass, pottery, and lamps. During a visit this spring I fell in love with a contemporary collectible. Ephraim Faience Art Pottery of Wisconsin started making Arts & Crafts style pottery in 1996. They make handmade limited editions of fewer than 500. Prices start at $150 and already their retired pieces are highly desired by collectors. Orphan Annie's also has a warehouse sale on Mondays from 10-1:00.
Back in Scarborough we're still mourning the loss of Centervale and the wonderful deals at the summer yard sales.
Cliff's in Scarborough is a regular stop for me and a great place to take visiting family on a rainy summer day. My sisters fan out on their search and buy missions and the nieces and nephews always find an inexpensive treasure.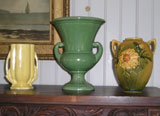 These are examples (left to right) of vintage vases by McCoy, Haeger and Roseville potteries.
Last week I returned from a trip to the grocery store that included a short detour to Cliff's, and yet another planter I found for $4.25. I think my husband's just happy that I'm collecting something with such a low price tag. I once paid 12 dollars for a yellow planter, but six is usually my limit.
Lately I'm being priced out of the market. My husband is convinced I've driven up the prices, now often between 16 and 35 dollars, more when dealers label them "ferneries". However, I'm not counting on my planter collection to pay for a month of health insurance 20 years from now. By then they could be selling for a dollar each. You can collect for love or money, but if you're collecting for money, be sure you have some to waste.
Remember Beanie Babies? Many of them are now worth less than a dollar. Or on the high end—Stickley furniture. After the stock market crash of 2000, prices for highly collectible antiques such as Stickley also crashed.
What does this mean for most of us? In Fairfield I was told that cast-iron fry pans were a hot commodity a few years ago, selling for 35 dollars each. Now they sell for ten.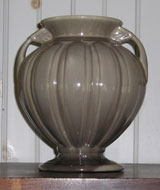 I fell for the shape and color of this Haeger vase this winter. Haeger pottery is an increasingly popular collectible yet is still affordable.
The collectibles market peaked around 2004 although there are steady sellers—oil lamps, small tables, decorative items such as inexpensive paintings, mirrors, hooked and braided rugs, and frames. Early Americana has priced itself out of a market, and prices on old quilts, oriental rugs, and old wicker have dropped considerably in the last few years.
So what's hot these days? It's fascinating to know even if you collect for love. According to Antiques.com, ironstone, brown transferware, and Roseville and McCoy pottery are still hot-this month.
What's hot varies in different parts of the country. In California collectible jewelry, especially with green and blue crystals, is hot. Shabby chic is no longer hot. Roseville pottery is still hot but most glass is cool. Contemporary-looking Heywood-Wakefield furniture, manufactured post-war in Massachusetts, is hot in California but available for much less in Maine.
Hand-forged aluminum serving ware is now hot-prices jumped substantially in the last year.
For me, planters are still hot as long as they're within my price guidelines, but I'm shifting my interest to other types of pottery. I've recently found three pottery vases made by Haeger—in lovely colors. Unfortunately, they're more expensive than my planters. The fun is always in finding it for less, and in the road trips that have taken us all over the state.
I've only mentioned a few of the many dealers in Maine. A must-have for planning your road trip is the comprehensive Maine Antiques Dealer Directory. You can find copies in many antiques/collectibles stores. Have fun and find your own obsession.