Whole Home Resource
Interiors

The Whole Home
Lessons from the First Lady of Interior Decoration
Elsie de Wolfe, known as the First Lady of interior decoration, told the world in 1913 to "decorate our rooms by the process of elimination."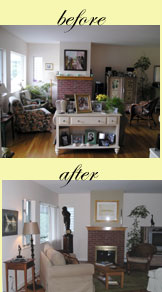 This redecoration reflects changes in this client's personal style and highlights artwork she has been collecting.
I take her words to heart, and every so often I give my own house that steely gaze and start packing things into boxes. When I am invited into other people's homes to advise them on redecoration I keep de Wolfe's advice in mind.
She also suggested it will give us more pleasure to rearrange our house using what we already own than to start with an empty room. With this focus, a redecoration can identify treasures that were buried and provide a greater appreciation of pieces we own but have moved to the background.
The effect of both of her precepts can be seen in the before and after pictures of this living room.
The redecoration I did with this client reflects her personal change in the last few years and also highlights artwork she had been collecting which was never displayed to its best advantage.
As a part of the redecoration she sold some of her extra furniture and moved family photos she most liked to more private areas of her home. We also took away smaller mass-produced decorative items that distracted from the quality of her artwork.
The print over the fireplace was originally in a guest room. She pointed it out as one of her favorite pieces and I suggested we move it to a place where she could see it every day.
We added a new rug, sheer curtains, a slipcover, throw pillows, and two standing lamps. Then we painted the wall over the mantel to provide more of a focal point from the entrance.
We chose good reading lights and now that the curtains keep the large window from becoming a black hole at night, she's much more comfortable spending time there in the evening.
This living room is a work in progress. We've found more appropriate fabric for the pillows. We're still looking for a new coffee table. Since she paid $12 for this one many years ago, it's long been amortized! I don't know why, but in my experience, it's easier to find a good man than a good coffee table. She also plans to replace the cupboard holding her television.
A room redecoration doesn't necessarily happen in a day. It can be done in stages. I'm often asked to create a design plan for clients so they can work on their own and as they can afford to make changes.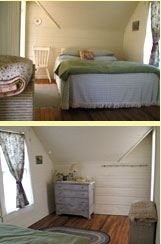 This room was turned from a "lumber room" to a guest room with one long day of work in addition to planning and shopping during the month before.
It's possible, with planning, to completely redecorate a room in a day. This room in our old house in North Carolina went from a lumber room to a guest room in one very long day. That included moving out the lumber. I spent time planning and shopping ahead of time.
The bed came with the house. I brought the bureau, chair, rugs, paintings, mirror, duvet, chenille bedspread, wooden rail with clothes hooks, vintage barkcloth curtain fabric, pottery, and the hamper from Maine. We took everything from our attic but the hamper and the old clothes rail, both of which I bought with the room in mind.
What I did in a day: Moved the lumber to another room. Vacuumed. Washed walls, floor, and windows. Scrubbed the dusty bureau. Sewed a duvet cover from two double sheets. Sewed sheer curtains and the over curtains. Hung pictures. Laid rugs. Made the bed.
Finally, I picked the Carolina jessamine for the bureau, added some good books, and put out the towels. Our guest arrived the next morning.
Elsie de Wolfe's book, The House in Good Taste, was published in 1913 and is still in print. And although she wrote about her chairs covered in Aubusson tapestry, her Savonnierie rug, and her rare old Mennoyer drawings, her advice still applies to the rest of us who may be raiding our attics rather than heading to France on buying trips.
In her memoir After All, she described what I call "the Christmas Tree Shop Syndrome": "Gewgaws all over the place are bound to stir up unrest...a few good things in their proper settings and in friendly relationship to one another are far more satisfying than a regiment of inconsequentials which pick at the nerves."
And although de Wolfe had high-end tastes, she was also known as the Queen of Chintz for her widespread use of this inexpensive fabric in the expensive houses she decorated. She often used painted furniture of no known pedigree. She would decorate whole rooms based on one small piece she loved, such as a pottery jar designated for a mantel.
Elsie de Wolfe had a simple dictum we should all heed: "Light, air and comfort—these are three things I must always have in a room." She stressed good lighting fixtures in the right place and simple curtains that don't block the light. For comfort she used many footstools in her redecorations (again, often harder to find than a good man!)
Probably de Wolfe's most important lesson for those who lack confidence in decorating is her belief that all of us can learn to recognize suitability, simplicity, and proportion.